By Dr. Sal Martingano, FICPA
As the world transitions to 5G wireless technology, few really understand the far-reaching impact and 'yes' consequences that this technology could produce.
For the average users, their 5G phones will be like Disneyland on steroids, yielding 20x faster speeds than 4G, allowing for things like HD full movie streaming, virtual reality gaming, artificial intelligence data, real time language translation, and the ability to use "find my phone" functionality for everything they own, using sensors embedded in anything.
For corporations producing goods and services, 5G opens possibilities for self-driving cars, streetlights that brighten and dim as you pass by and 'artificial intelligence' devices, effectively changing the way the world functions.
For governments, including the U.S., 5G raises the systemic risk of data collection for spying, interrupting military communications or even hijacking nuclear technologies, all in the name of national security.
"The Trump administration has added Huawei Technologies Co Ltd to a trade blacklist, immediately enacting restrictions that will make it extremely difficult for the company to do business with U.S. and its allies."
Why Blacklist?… Huawei is Funded by the Chinese Military
According to the CIA, Huawei has been on America's radar for some time, and not in a good way- releasing proof that the company is funded in part by Chinese military and other intelligence assets.
The Justice Department, using information obtained under the U.S. Foreign Intelligence Surveillance Act (FISA), is prosecuting Huawei over accusations of bank fraud, technology theft and violating U.S. sanctions against Iran.
Huawei is accused of conspiring to defraud HSBC Holdings, PLC and other banks by misrepresenting Huawei's relationship with Skycom Tech Co Ltd, a suspected front company that operated in Iran. HSBC Holdings, PLC is a British multinational banking and financial services holding company. It is the 7th largest bank in the world, and the largest in Europe, with total assets of a staggering $2.5 trillion.
The U.S. is worried that if Huawei gains access to massive funding for its equipment the outcomes could be used by Beijing for spying. The U.S. government has been concerned about espionage by Huawei for years and Trump is giving early notice that the U.S. will not tolerate potential cyber warfare.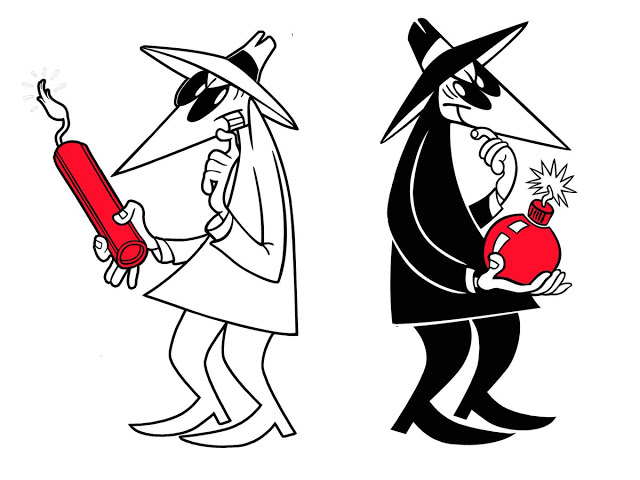 Spy vs. Spy
With 5G upon us, we are entering a dangerous game of intelligence breaches, reminiscent of the fictitious 1961 Mad Magazine 'Spy vs. Spy' scenario. The comic strip featured two long beaked spy agents in trench coats, one in black the other in white, involved in stereotypical espionage activities. The pair are always at war with each other, using booby-traps and counter intelligence to inflict harm on the other, each having their share of victories and defeats.
In todays 5G world, there may be no alternating victories, only domination.
The reality of cyber espionage by companies like Huawei is no longer fiction. Huawei is either a key provider of 5G cellular equipment or is an agent of the Chinese government, building out the global, next-generation intelligence and cyber-warfare network.
So which is it?
Trump has taken the offensive by putting Huawei on notice to help protect the U.S. from foreign adversaries attempting to take advantage of technological advances being used to collect sensitive data, then sharing that data with Iran or North Korea.
Based on a steady stream of hacking reports, American distrust of China's intentions is understandably high. Recently, for example, the US Navy reported it was under intense "cyber-siege" by Chinese hackers, temporarily knocking out the ship's navigation options. Trump is pressuring U.S. allies not to allow Huawei to build 5G networks in their country. Huawei is already in 26 countries from Germany to Madagascar.
The potential for a few 'bad apples' to wreak havoc in the 5G era is just a matter of time. By not gaining control of 5G networks, cyber-warriors could potentially force unimaginable horrors from anywhere on the globe, like directing trucks into crowds, shutting down a country's power grid, or disabling disaster-prevention safeguards in nuclear power plants.
Huawei, being a Chinese communication company, may be the first to raise the threat of cyber-warfare, but it will certainly not be the last. As with the storylines for the Spy vs. Spy comic strip, new and more innovative espionage threats will increase proportionally to the ease of collecting data.
For a more in depth understanding and insights into the solutions required to get our country back, read Sal's book:
"The Declaration of Dependence… A Betrayal of the American Dream"
New Edition Coming Soon to Amazon.com.
In the meantime, you can buy the previous edition here.
To learn more about Sal Martingano's upbringing as an Italian from Bensonhurst, Brooklyn, New York, check out his latest book:
"Boys of Brooklyn… A Time When Life Never Sucked".
Available on Amazon here.