Just Getting Started – by Tony Bennett
Book Review by Dr. Sal Martingano, FICPA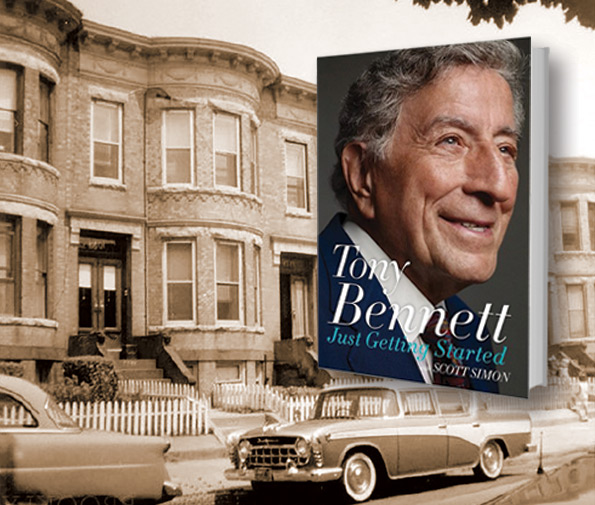 Nearly every baby boomer's family remembers Tony Bennett. Bennett, now 92, was a musical staple in most American households. Born Anthony Dominick Benedetto, the son of Italian Immigrants from Calabria, Italy, Bennett hails from Queens, a borough of New York City. My parents, also children of Italian Immigrants from Calabria, settled in the neighboring borough of Brooklyn. Bennett stated: "Our neighborhood in Queens was home to Italian families like ours but also to Irish, Italian, Jewish and African American families", the same as was my home in Bensonhurst, Brooklyn.
Bennett is of my father's era- not just in age but in similarities shared by "America's Greatest Generation". "Just Getting Started" gives insight into Bennett's early life, from the Great Depression to his military service in World War II. Bennett describes combat experience as "the horrors of man's inhumanity to man". His war experiences helped Bennett become a humanitarian, enhanced by his later relationship with Dr. Martin Luther King.
In 1965, Bennett was asked by Harry Belafonte to join the civil-rights marchers in Alabama. Led by Dr. King, Bennett said the experience was "thrilling and inspiring" and also "frightening," – in light of the violence allowed by Governor George Wallace and the "law enforcement" of the time. Bennett, along with Sammy Davis Jr., Shelley Winters, Leonard Bernstein and others, sang "Just in Time" for the marchers despite state troopers not allowing integrated groups to perform. It was a defining time in history that I remember well and hope will never be repeated.
Friends in the Entertainment Biz
"Just Getting Started" is mostly the story of Tony Bennett's entertainment life, paying loving tribute to the many entertainers who became lifelong friends and mentors. The list reads like a glossary from the entertainment world. Every chapter reveals Bennett's inner thoughts as he pays tribute to the likes of: Bing Crosby, Louis Armstrong, Judy Garland, Cary Grant, Nat "King" Cole, Lena Horne, Frank Sinatra and Bob Hope, just to name a few. Interesting to note that it was Bob Hope, in the 1950's, who gave Bennett his big start by deciding to take him on the road with him. Hope also influenced him to simplify Anthony Benedetto to the now famous "Tony Bennett".

Music as a Part of Life
I enjoyed reading this book because Tony Bennett was an inspiration for me as well during this era. During the late 1950's and throughout the 1960's I became a musician, playing guitar in a band at local night clubs, weddings or Bar Mitzvah's in Brooklyn and Queens to earn money for college. In my book, "Boys of Brooklyn…A Time When Life Never Sucked", I describe how music became part of my life. Not a single event would pass without a medley of Bennett songs reaching the speakers. Songs like "The Shadow of Your Smile", "I Left My Heart in San Francisco", "Stranger in Paradise", "Smile" and so many others that to this day I continue to play.
Bennett emphasized the importance of lessons he learned from each entertainer. Each chapter is about a person in his life, starting from his parents to earlier 20th century performers like Fred Astaire, musicians such as Count Basie, and more recently performers like Lady Gaga, with whom he recorded a whole album, "Cheek to Cheek" in 2014. At the 57thGrammy Awards, Lady Gaga and Bennett won the award for Best Traditional Pop Vocal Album; quite an accomplishment for an 89 year old performer.
The Painter, The Soldier, The Humanitarian
Bennett, who is a painter in his own right, includes many of his original paintings in this book and also writes how Spanish painter Pablo Picasso inspired many of his paintings. Having fought in WWII, Bennett is especially moved by Picasso's 1937 masterpiece, Guernica, which was painted after German and Italian fascist warplanes bombed the Basque town of Guernica during the height of the Spanish Civil War, which he states "epitomizes my view of war perfectly." This book, "Just Getting Started" by Tony Bennett, is a wonderful synopsis covering over six decades of entertainment. Each chapter gives insight, not only into the performer but to the performer's contribution to humanity itself.
Did you Enjoy this Review? Then come share the similar experiences and adventures of the "Boys Of Brooklyn… A Time when Life Never Sucked" available on Amazon here.