By Dr. Sal Martingano, FICPA

"We are all the products of parents who experienced the hardships of war and the Great Depression and learned the lessons of family pride, unity and benevolence."
Bensonhurst is part of the borough of Brooklyn and was my home during my early boomer years. Bensonhurst was also home to the largest population of Italian and Jewish families, due to its proximity to the business districts of NYC. My home was an old pre-Civil War colonial with almost an acre of land that my grandparents farmed, growing everything from strawberries to corn as well as peach, cherry, figs and pear trees.
1950's Bensonhurst was also the home of numerous Mafia crime families, that surprisingly made our neighborhood safe and secure, despite the mayhem and violence these families participated in elsewhere. There are dozens of Mafia type books that describe this era but this book is not one of them.
My book: "The Boys of Brooklyn… A Time When Life Never Sucked" is a story of five first wave baby boomer friends who had no idea or knowledge of crime families but instead experienced the very best that life had to offer. Our technology of the day was face to face morning meetings to plan out our numerous adventures, used sporting equipment and bicycles. Two of the 'boys' were Jewish, the rest were Italian but we all had the same rules to abide by; respect for each other and we had to be home for dinner or when the street lights turned on. I had the advantage because my mother could whistle so loud you could hear it blocks away.

My parents, the children of immigrants, were charged with building a new world for their families with the promise of relatively high wage jobs generated by industrialization and the opportunity for upward social mobility. Instead, they came face to face with the Great Depression. Survival was a matter of persistence and the clear vision that only they could save themselves and not some governmental regime. This period in history tested our resolve as a nation. In America, there was a moral need for a political and economic change. This change, along with World War II, ignited our industrial machine and effectively ended the Great Depression.
So important and influential were our parents toward our upbringing that I devote an entire chapter to "Our Greatest Generation: Through a Son's Eyes", where each of us described our parents' journey. The freedom we had to explore our world, unencumbered by present day restrictions and security protocols, made our neighborhood dynamics as important as our traditional schooling. Each of us brought a unique perspective to our learning adventures. We learned from our unique spiritual differences to respect life and nature. Our neighborhood provided the challenges, personal growth and surprises to keep life interesting. Despite the individual pressures from surrounding neighborhoods, we spent nearly 20 years in the scouting program, travelling to faraway places, participating in wilderness camping and survival training that served us well during the many adventures you will read.
One of the surprises our neighborhood revealed was that the home of one of our neighbors was the "Capo" (Boss) of the Genovese crime family, neatly blended with the rest of the community without us ever knowing. I was somewhat of a chubby kid with thick glasses and was the favorite target of the Capo's son, who relentlessly tormented me. The day of reckoning came when I decided I had enough and upon his next assault I landed a haymaker right to his nose and proceeded to pummel him before he could get up. After the incident, my father and I met the "Capo" for the first time, who was not angry but recognized my dilemma and said that it's about time his son got a good ass whipping for his deeds. The Capo was mild mannered and spoke with a deep raspy voice due to prior throat surgery. I guess he appreciated my courage but truthfully, it's a good thing I was Italian! In 2008 it was revealed that my old Bensonhurst house had been bought and sold numerous times, each new owner adding additions and upgrades. Despite its new face and interior, it remained the only house of its kind in the neighborhood with ties to Brooklyn when it was still farmland.
What had changed was the population demographics. In 1985 Rudy Giuliani, a fellow baby boomer from Brooklyn and head of the Mafia Commission Trial, successfully prosecuted the heads of all five New York and Brooklyn crime families (including my former neighbor). In 1990 an influx of immigrants from China and the former USSR began to arrive, along with families from the Ukraine and Armenia. Bensonhurst rapidly grew in cultural and ethnic diversity and now includes a significant population of Polish, Bosnian, Greek, Turkish, Arab, Pakistani, Mexican and Puerto Rican Americans, just to name a few. In 2010, the New York City Department of City Planning determined that more than 60% of Bensonhurst residents were born in another country; a far cry from my early Boomer days.
Time is always the great equalizer. Since my house was never registered as a historical landmark, it was only a matter of time before the land value overcame the historical value. In 2012, the house was again sold to a developer who promptly tore the house down, building a six family apartment house in its place.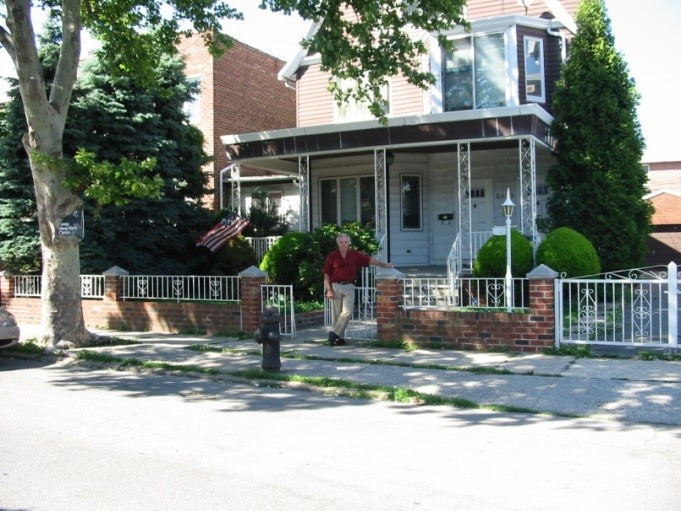 It's been 70 years since my boomer beginnings in Bensonhurst. Sadly, all that is left are the memories and some pictures.
Come share more of the experiences and adventures of "Boys of Brooklyn… A Time When Life Never Sucked"
available on Amazon here