By Dr. Sal Martingano, FICPA
How confusing is it to be told that we

must

listen to science

, but in practice,

do just the opposite

?
Having experienced pandemics and epidemics over the years, I learned that although they can be dangerous and, in some cases, deadly, they are also part of nature and almost impossible to avoid, let alone stop. It's time for a reality check.
During this "pandemic", scientific protocols have become intertwined with political and economic pressures- never before witnessed in American society. Experts are flip-flopping their opinions, death estimates have been grossly over estimated, and the economy is in total chaos, creating nationwide fear and anxiety.
However, not all "scientists" or "experts" wear white lab coats or speak in a language few can understand. Sometimes common sense and generational experience with epidemic diseases work as well as scientific protocol. During this time of uncertainty, when fear and draconian protective measures are pushed upon us, perhaps we can add a little humor to break the tension and make a point.
VIDEO: George Carlin
20 years ago, the comedian George Carlin did a satirical analysis of how the human immune system works and adapts to natural occurrences that challenge the immune system. His analysis was not based on published articles or placebo-controlled trials, but instead on actual experience. Below is a brief synopsis and link to his hilarious routine; ENJOY! (Warning… Contains adult language):
"What we have now is a completely neurotic population. Where did this sudden fear of germs come from in this country? Have you noticed this? The media, constantly running stories about all the latest infections – salmonella, e-coli, hanta virus, bird flu – and Americans, they panic easily so now everybody's running around, scrubbing this and spraying that and overcooking their food and repeatedly washing their hands, covering their heads and trying to avoid all contact with germs. It's ridiculous and it goes to ridiculous lengths, what do you think you have an immune system for? It's for killing germs!"

George Carlin
Let's compare historical epidemic control methods to today's mandated methods:
COMMON SENSE vs QUARANTINE
HISTORICALLY:
When people got sick, they didn't go to work or school, they stayed home in bed until they got better; not because of government mandates but because they felt like crap. Simple!
TODAY:
People are mandated to "self-quarantine" or go into "lockdown". These are intentional military-type words that frighten people into compliance.
Schools:
Spreading Out Curriculum
vs Closing Down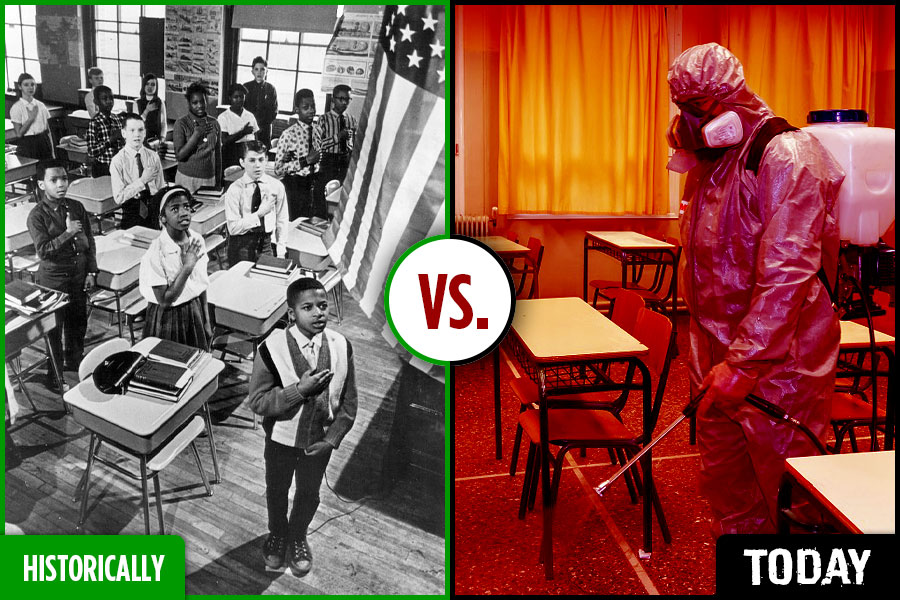 HISTORICALLY:
Schools didn't close, they spread out the curriculum until things returned to normal. (I should know… I was a High School teacher)
TODAY:
Schools are shut down or resort to "virtual" learning. Face masks and/or face shields are mandatory. Kids today suffer from lack of healthy interaction even though schools are virtually at NO RISK for viral contamination.
Economy: Adaptation vs Decimation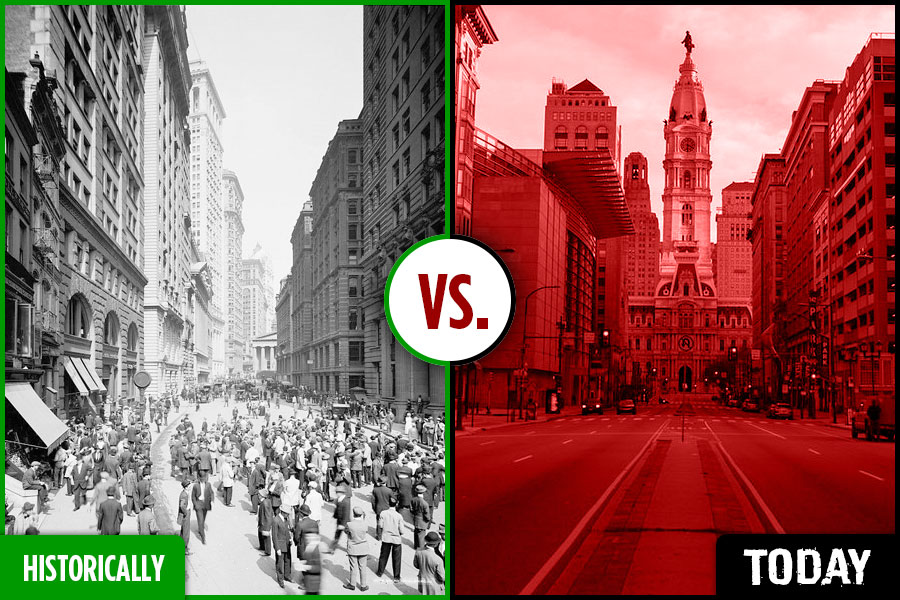 HISTORICALLY:
The economy remained open and simply adapted as necessary. The middle class remained employed and most people went about their daily business, some without even knowing there was a health issue.
TODAY:
The middle-class economy has been decimated, mandating that small businesses be shut down indefinitely. However, large corporate box stores and food chains remain open…..hmmm!

The Loss of Basic Human Connection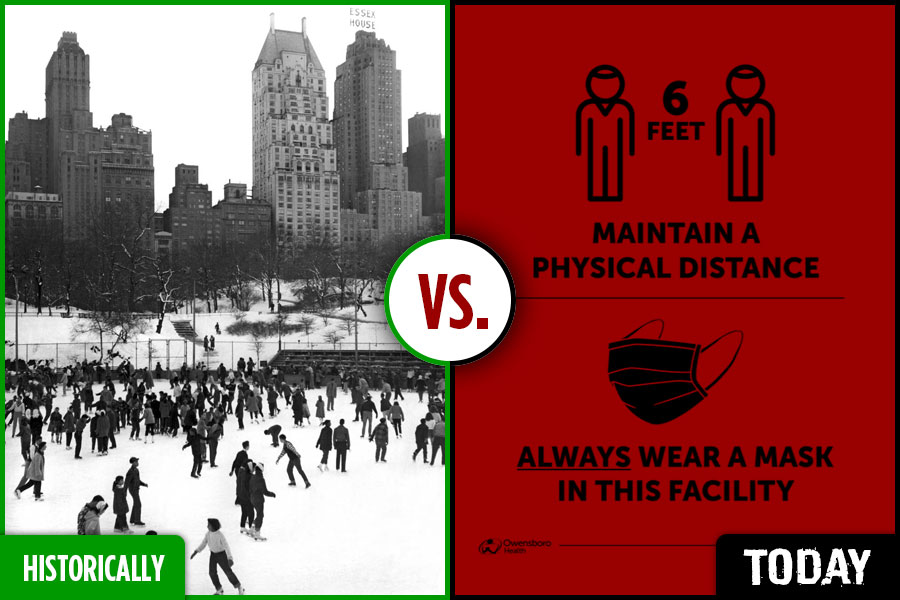 HISTORICALLY:
People without symptoms intermingled, attended concerts, went on vacations, went to movies and ate at restaurants.
TODAY:
Dr. Fauci is suggesting future radical social changes like "rebuilding the infrastructures of human existence", discouraging hand shaking, and maintaining "social distancing" on a regular basis.
Immunity
vs
Isolation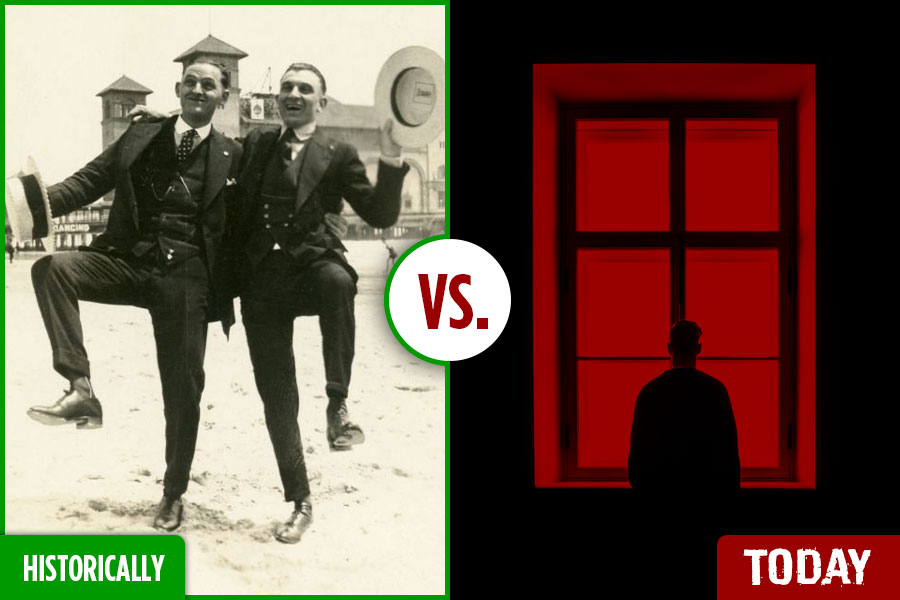 HISTORICALLY:
The best defense against a pathogenic epidemic was to let the pathogen weaken naturally until "herd immunity" rendered the pathogen inactive.
TODAY:
Isolation is enforced- discouraging natural antibody formation and prolonging the life-cycle of pathogens. Social distancing, continuous use of face masks, temperature checks and use of hand sanitizers may sound reasonable, but goes against all scientific literature.
The Role of The Media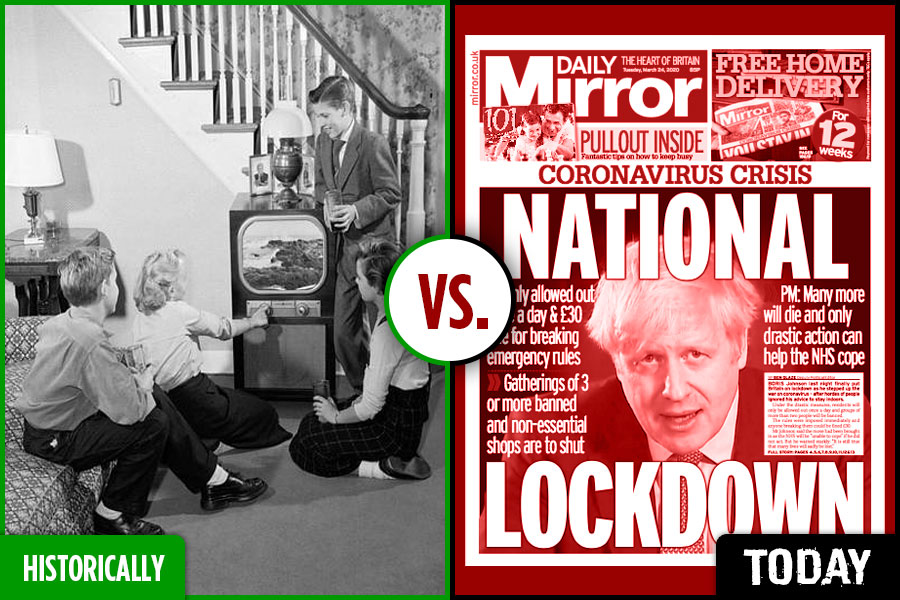 HISTORICALLY:
The media barely mentioned epidemic events.
TODAY:
The media has become the voice of Big Pharma and corporate driven America, striking fear and anxiety into the population, 24/7- to the point of universal compliance and paranoia.
Untested Vaccines:
Voluntary vs Mandated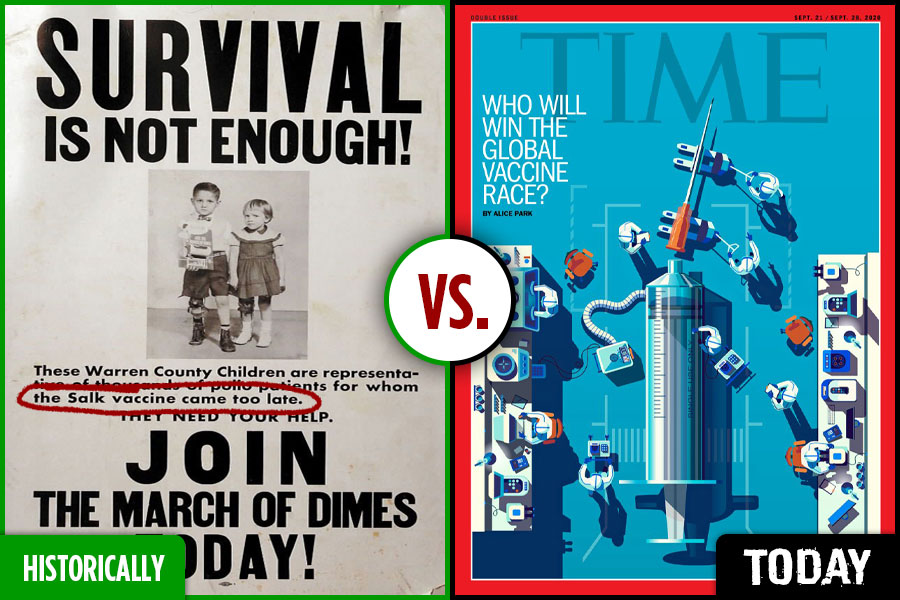 HISTORICALLY:
Most epidemics/pandemics did not end with a vaccine. Oftentimes the vaccine became available long after the pandemic ended and was then used for future similar events.
TODAY:
The rush to produce a vaccine to quell public fears has overtaken scientific protocols. All medications and known treatments that have been proven effective are totally denounced. People are being conditioned to accept mandated, untested vaccines.
Adaptation; The Key to Survival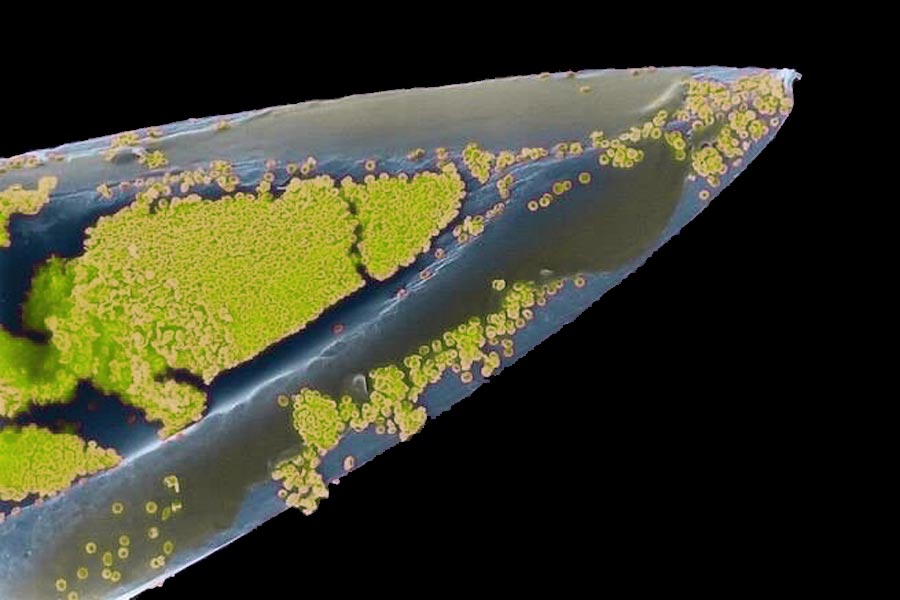 Our very existence depends on our adaptability to environmental challenges. We, as a species, are not the only lifeform on the planet challenged with survival. The entire animal kingdom as well as the sub-microscopic world of microbes are also adapting for their survival.
Humans have been blessed with an incredible immune system, designed to meet epidemic challenges like flu viruses, infectious bacteria, fungi and microbes you really don't want to know about. The 6-minute humorous bit by George Carlin should act as a slap upside the head for most of the uninformed population.
"Simply put; the immune system cannot adapt to environmental challenges unless it is exposed to pathogens."

Dr. Sal Martingano
The process is not pretty but trying to "hide" from viruses is like trying to trap a mosquito with a cyclone fence, since approximately 500 million common cold viruses (rhinovirus) can fit on the head of a pin.
The Vaccine Industry is Immune to Prosecution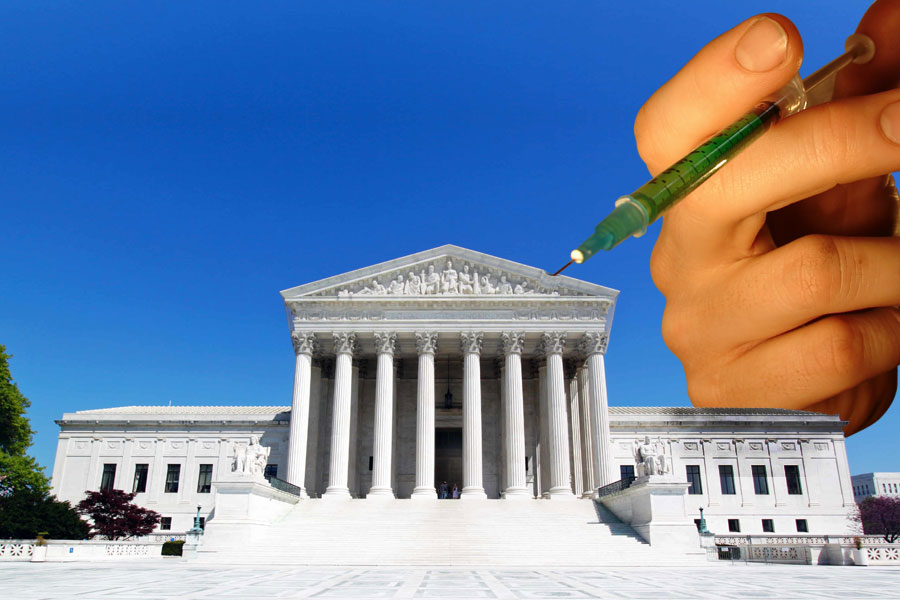 NOTE:




THE FOLLOWING IS NOT "PRO" OR "ANTI" VACCINATION STATEMENT- IT IS MERELY A STATEMENT OF FACT:
The vaccine industry makes billions of dollars creating vaccines averaging from 19% to 60% effectiveness (depending on the virus), never produce total immunity, and are NEVER tested for safety against a pure placebo because the vaccine industry has TOTAL immunity from prosecution.
An example of CDC "Crystal Ball" science: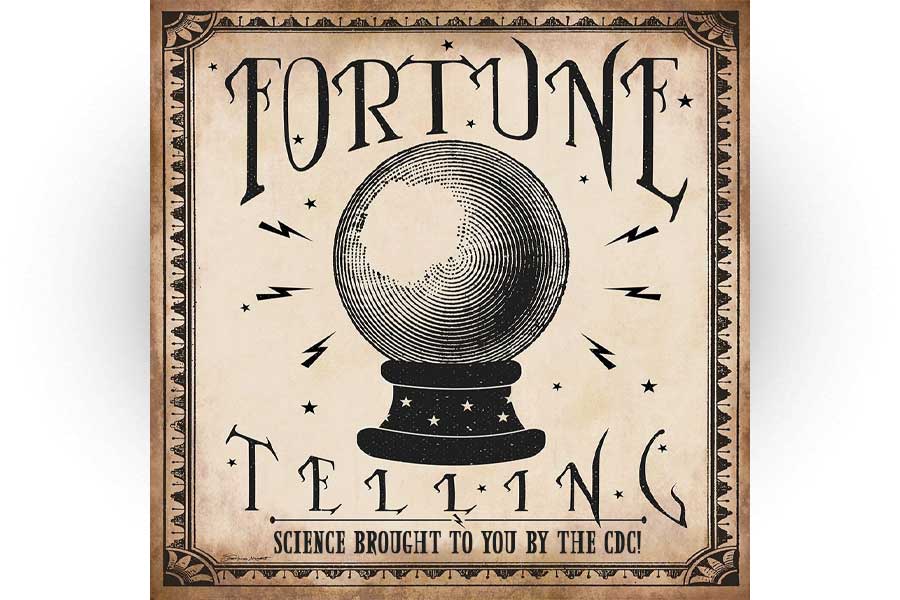 According to the CDC, Flu vaccine prevents millions of illnesses and flu-related doctor's visits each year. They stated that during 2018 – 2019 flu virus, vaccination prevented an estimated 4.4 million influenza illnesses, 2.3 million influenza-associated medical visits, 58,000 influenza-associated hospitalizations, and 3,500 influenza-associated deaths.*
*The funny part about the above… is that it simply isn't true.
These CDC numbers are virtually impossible to predict with any accuracy- especially about something that did not even happen. Inaccurate predictions are one thing, but when written as a statement of fact, it only perpetuates irrational, world-wide fear.
Every "expert" prediction about COVID-19 deaths has been grossly wrong (AND IT'S NOT HYPOTHETICAL- the actual stats prove how wrong the estimates were). To counter (cover-up) their gross miscalculations, the "experts" simple made a non-Pandemic event into a Pandemic event; every respiratory-illness death became a COVID death, and PCR positive tests were falsely inflated- to the point where positive test results came back for people who NEVER EVEN TOOK THE TEST.
The CDC can't get accurate stats from local hospitals because they claim "HIPAA regulations". They can't even accurately separate and count people with ONLY COVID-19 from those with co-morbidities like influenza and pneumonia- or even an unrelated seasonal NON COVID flu. Check their site; the stats are NOT there.
QUESTION TO CDC:
How many people died from flu during the 2017-2018 season?
"ANSWER" FROM CDC:
"While flu deaths in children are reported to CDC, flu deaths in adults are not nationally notifiable. In order to monitor influenza related deaths in all age groups, CDC tracks pneumonia and influenza (P&I)-attributed deaths through the National Center for Health Statistics (NCHS) Mortality Reporting System. This system tracks the proportion of death certificates processed that list pneumonia or influenza as the underlying or contributing cause of death. This system provides an overall indication of whether flu-associated deaths are elevated, but does not provide an exact number of how many people died from flu."
Natural ANTIBODIES Created by Exposure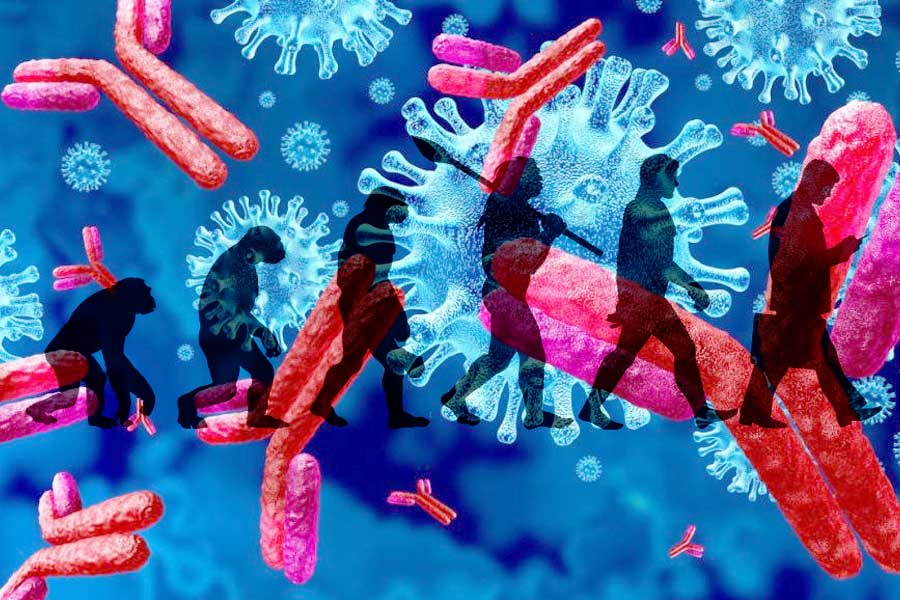 The ONLY permanent defense against potentially deadly pathogens is Natural ANTIBODIES created by exposure (priming) to the immune system. Don't be fooled by the persuasive argument that "people will die from viral infections". People survive most viral infections, except when they are immune compromised or have underlying illness (as with this corona virus).
No vaccine, pill or potion will change that. It's called survival of the fittest.
It is a fact of life.